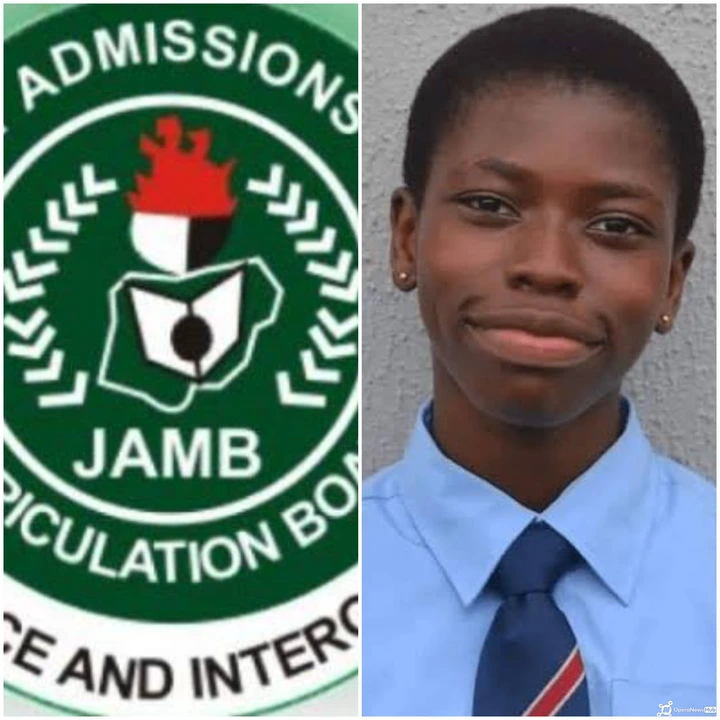 Egoagwuagwu Agnes Maduafokwa who is a native of Ihiala , Anambra State was born and brought up in Lagos state. She is currently the only girl who was blessed onto the Family of Mr and Mrs. Maduafokwa. She Attended Greater Scholar International School, Ajah Lagos for her primary education. After which she got admitted to Louisville Girls High School, Ijebu-Itele, Ogun State.

At 16, she sat for the UTME of the Joint Admission Examination Board (JAMB)- an examination that was to change her story for good. News wallow into the air that she had the best result through out the whole federation. She had a total of 365 points out of 400. Below is all she had for each subject;

Mathematics- 99

Physics - 99

Chemistry - 95

English - 72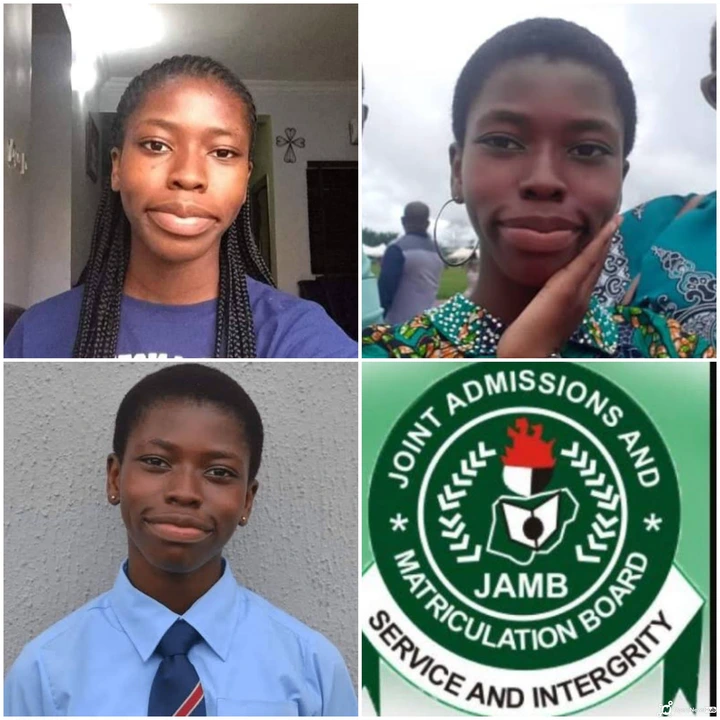 "When I was reading for UTME, I actually wanted to get first in Nigeria. I wanted to get 375, but when I wrote the mock examination, I got 327. I thought getting 375 might not be possible. I thought 375 was too high to aim for, but then I started reading more because I want to get higher than 327. I was looking at 350, but when I wrote the exam, I felt nothing is impossible because I knew I did my best." She said.

Agnes had secured several awards while in primary school. Which she continued up till when she was in junior school. Always aiming to improve herself in her pursuit of excellence. Immediately after sitting for her UTME, she went back to the drawing board .
"After my UTME exam, I cross-checked my answers and everything looked okay. At that point, I knew I could score higher than 350. When the results came out and saw my scores, I was not looking at the science subjects, but English where I scored 72- I was expecting something higher than that" she added.

When asked whether she was expecting to score 99% in Mathematics. She said she wasn't surprised, that it was something that runs in her family .

"Maths runs in the family. We won so many awards. As President of the Maths club in my Senior Secondary School, I was teaching junior students mathematics when the teachers are not around"

Sharing her experience further on how she felt when she discovered that she scored 99% in Mathematics , 99% in Physics and 95% in Chemistry, she said she was able to prove that the impossible is possible.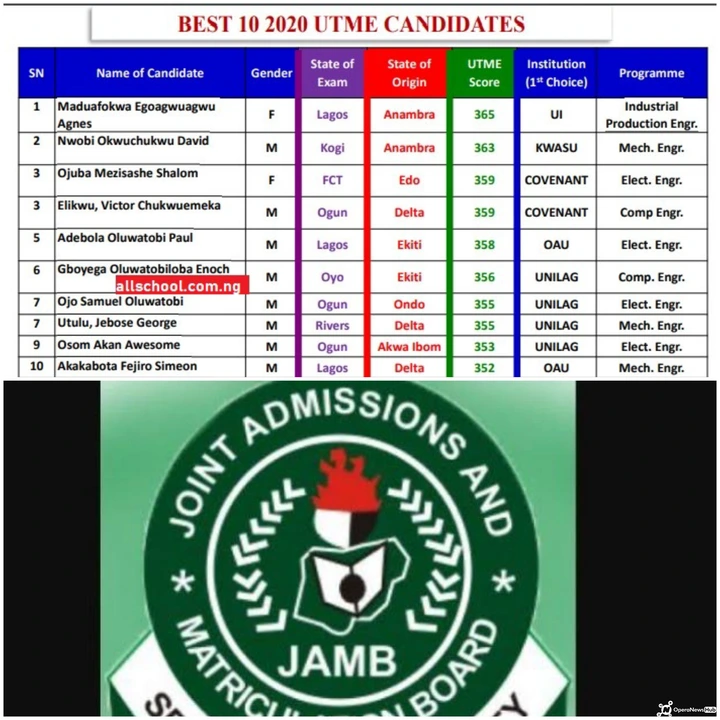 "I felt I have made my point . It showed that nothing is impossible. For some people, it is not possible, but I have been able to show that it is indeed possible, with God's grace, to get everything in the exam. I would not say it is not hard, but it was absolutely tasking, but with constant practice, it is possible "

Responding further in her interview with newsmen in Lagos, Miss Egoagwuagwu Maduafokwa said the way you prepare for an examination is important. She said preparing for an exam is not a sudden thing. You must have been preparing for it for a long time. She said there's no need for destabilizing your system because you want to write an exam.

"I personally believe the way to do things is to trust your system. When you're supposed to sleep, you should sleep because sleep is very essential.....if you have an exam, I feel you don't have to burn the midnight oil because if you have been working hard from day one, there's no need for extra hard night before the exam.....when you read too much, you might not be able to remember everything because it is called 'fast reading '.......but when you read at intervals and breaks, sleep when you're supposed to, it really helps a lot and that's what I do"

Miss Egoagwuagwu, whose desire is to read Industrial Production Engineering at prestigious University of Ibadan, shared her thoughts on why she opted to study engineering and not other courses. She said she's a creative person. She said her desire in life is to make a change, do things better, and it is only Engineering course that offers that opportunity.

"I have always been creative like putting things in order. Some people thinks Engineering is for men, but I don't think so because it is about ideas and creativity "

Agnes advised students to stop pursuing courses they don't have exceptional aptitude for. She believes students should go after courses where they have strength.

"If you know your strength is in the science subjects like Physics, Chemistry, Mathematics, and you feel that you want to make a change, for things to be better, Engineering is it"

Speaking on what motivated her to aim and achieve her target, Miss Agnes said her position of responsibility as Assistant Head Girl in senior secondary school put so much pressure on her. All eyes, according to her, were on her to perform.

"As assistant head girl, I have a reputation to uphold and everyone is looking up to me. I could not afford to perform poorly or drop in my grades. I was motivated to do better as the assistant head girl. My result is a subject of interest to my mates and junior students. "


For her excellent performance at the UTME, the Nigeria Society of Engineers presented a cheque for N16 million to her and fifteen other candidates who also did well and aspire to read Engineering courses in the university. They also got Laptops and tablets for their efforts.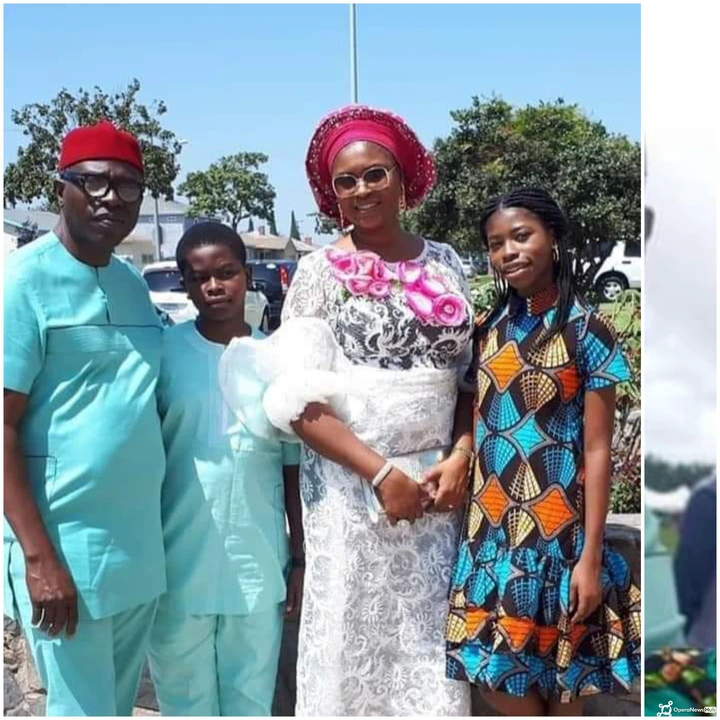 On a final note, Agnes advised fellow students no to waste the money expended on their education by their parents. She advised students not to make all efforts on them by their parents to be in vain. "They paid for my fees. I can't afford to waste their money for any reasons ....be a good student while in school by obeying the rules and regulations of your school....it will help you to be a better person ", she concluded